A look at First Lady Michelle Obama's Spain holiday in Marbella.
How do you choose your vacation destinations? We may decide that we're going to Berlin to visit friends, or Thailand to taste something exotic, or Paris because it sounds romantic. Or maybe you look for someplace that will make people jealous: "I went to the French Riviera and rubbed shoulders with movie stars." "Oh yeah? I went to China and petted a giant panda." Most of us are lucky though, in that we don't have to take into account the judgmental eyes of the world's media when we choose where to go and what to do.
Not so for Michelle Obama. The American First Lady's vacation in Spain has been commented on and criticised by pretty much everyone on the internet for the past two weeks. It seems that few people are happy with her choice of destination, or with the idea of her taking a vacation at all. Her crime? The USA's First Mom took her daughter Sasha with her on a jaunt to southern Spain's Costa del Sol for some (we can assume) much-needed relaxation time.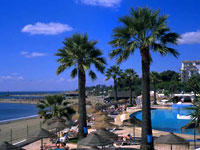 The Costa del Sol, which means Coast of the Sun, is dotted with purpose-built resort towns, and is hugely popular with British tourists. Marbella, where the Obamas stayed, is one of the best-known of these resorts. It's no stranger to celebrity visits, as many famous personalities have called it home over the years. Noted residents have included Joan Collins, Sean Connery and Dolph Lundgren; and Antonio Banderas, who co-hosted a charity event there with Eva Longoria during the Obamas' stay.
And what draws these famous faces to this particular spot? Marbella first became a tourist destination in the 1940's, when Prince Max Egon zu Hohenlohe-Langenburg had car trouble there. He liked the look of the place so much that he bought property and immediately started marketing the town as a holiday destination.
Second-tier European royalty and their jet-setting crowd put the city on the map in the following decades. However, the last twenty years have seen Marbella gain a reputation of being a haven for criminals. Dubbed the "Costa del Crime" by the media, local gangs competing with international competition for drug trading gave the city a seedy reputation.
Lately, the city has been associated more with gangsters and reality television stars than royalty. Despite that, Marbella still has a glossy sheen to it, and a higher standard of living than many surrounding resorts on the Costa del Sol. It's been compared to both St. Tropez and Monaco, and has a price tag to go with the stylish attitude.
The First Lady stayed at the luxurious Hotel Villa Padierna, a five-star Ritz-Carlton resort. Rooms at the hotel start at £210 (R2,390), and go all the way up to £4,100 (R46,680) per night for a villa with butler service and a private pool.
The Villa Padierna has three golf courses, a spa and five restaurants within its grounds in the hills of Benahavis. The 129-room luxury hotel is far from the only high-end accommodation in the area, though. The Gran Melia Don Pepe has marble bathrooms, poolside beds and a Michelin-starred restaurant, while the Finca Cortesin resort offers heated massage beds and a snow cave for its guests.
Marbella itself is a honeycomb of narrow streets, with open-air shops and cafés. The Old Town is centred around the Patio de los Naranjos (Court of Oranges), which is a beautiful Castilian-style plaza surrounded by architectural sights like the city hall and the Renaissance-style Casa del Corregidor palace.
Only 40 kilometres away from Morroco, you can see a strong Moorish influence in some of the ruins and ancient walls within the city, and the ancient fortress, known as the Muralla de la Alcazaba.
A famous sight that will appeal to art and culture lovers is the Avenida del Mar, a lovely walkway from Marbella down to the Paseo Maritimo. While the walkway itself is peaceful and scenic, the attraction is the ten bronze sculptures by surrealist master Salvador Dali. There is another sculpture by Dali at the Cristamar roundabout entrance to Puerto Banus, six kilometres away.
Marbella is famous for its own 'Golden Mile'. The beaches are conveniently located along the promenade near the city and many of the hotels, with all the basic amenities like showers, public toilets and lifeguards, but they are very popular and can be overcrowded during peak season. For this reason many locals insist the best beaches are outside the city centre, between Los Monteros Beach and Cabopino. There are plenty of places for watersports like jetskiing, canoeing, kayaking, and windsurfing, but those who want a good view below the surface will want to head to Playa Las Canas, where there are few services but good snorkelling and diving sites.
In terms of cuisine, coastal Spain means one thing: tapas. The tapas in Marbella is influenced by Andalusian tradition, with an emphasis on fresh seafood like bacalao (salt cod), piquillos rellenos (red peppers stuffed with fish), and fried squid. There are many tapas bars to choose from, including Old Town favourites like the Taberna Casa Curro and El Estrecho. You can also head to the beachfront, and popular restaurants like Los Sardinales on the Playa de los Alicates, which is famous for its sangria.
As the sun goes down, Marbella's rich and beautiful resident come out to play. Clubs and bars are priced according to their exclusive clientele, so be prepared to pay for the privilege of spending time in places like Nikki Beach and Suite Del Mar.
There are plenty of venues for the rest of us little people though, including Town House and Lolita in the Old Town, and the live music-oriented Premiere Club in the Plaza de los Olivos. Those looking for some hip-swinging salsa beats can head straight to the Ranchón Cubano and order a mojito.
Michelle Obama and her entourage spent four nights in Marbella, and although you can be sure they had the very best of everything, it's not hard to be relieved that for the rest of us a holiday in Marbella can be as relaxed, spontaneous, or thrilling as we'd like it to be. And no one in the tabloids will be printing our vacation photos, either.